Listen to this article now
The most important thing to consider before investing or creating a business in a community is how would it help others and who would it help specifically? Any new development in a community can either come with risks or benefits. Although entrepreneurship is something that is heavily celebrated, it can bring detrimental impacts to a community.
This article will give insight on the good side of entrepreneurship and how it can create opportunities and grow a community, but also highlight the bad side, such as gentrification by pushing small businesses and community members out. Understanding both sides of entrepreneurship in communities is important.
As an entrepreneur it is important to bet on yourself and create a successful life, but being selfless and caring about the communities you will work with is just as important. You cannot ignore the communities that you will be investing time and money on. You should talk to community members and see what is needed and what is not.
It is vital that you create a good and honest relationship with these communities. Thus, the first step is to educate yourself on the good and bad sides of entrepreneurship. Learn from the positive aspects and avoid the negative. Be an entrepreneur that cares about their community.
The Good Side
Creating businesses and opportunities to build a community is ultimately a good thing. When entrepreneurs care about the communities they are investing in and want to help others, this benefits everyone!
Entrepreneurship is vital for communities to succeed. Entrepreneurs are the driving change, they create new products, jobs, and opportunities. They come with innovative and important changes that can implement economic growth in communities.
An example of an entrepreneur that caters to innovation and helping others is Oprah Winfrey. She built a successful media and business empire that has allowed her to live comfortably and give back to communities. Not only has she advocated herself, but she has created jobs. Winfrey is an entrepreneur that everyone should look up to!
Through her charity organization, Oprah Winfrey Charitable Foundation (OWCF) and herself, Winfrey has helped organizations that serve children, families, and communities, with a specific focus on youth education. She has been an avid humanitarian and that is all due to how she grew herself as an entrepreneur.
Although not everyone wants to be an avid humanitarian, Winfrey teaches us that it is possible to be a successful entrepreneur without causing detrimental issues to communities. Rather than fuel gentrification, she helps others and that is an important lesson to note as a business owner.
The Bad Side
Before diving deep into the bad side of entrepreneurship in communities, let's define gentrification first. Gentrification is defined as a profit-driven, race, and class change of a historically disinvested neighborhood. For small communities that are very culture orientated, a complete change without the consideration of the people that are already there can be disheartening.
Gentrification has been known to displace communities and create a class shift. Although entrepreneurs creating businesses in historically disinvested neighborhoods may believe they are making positive changes, they can be the cause of many businesses and individuals losing their housing and income.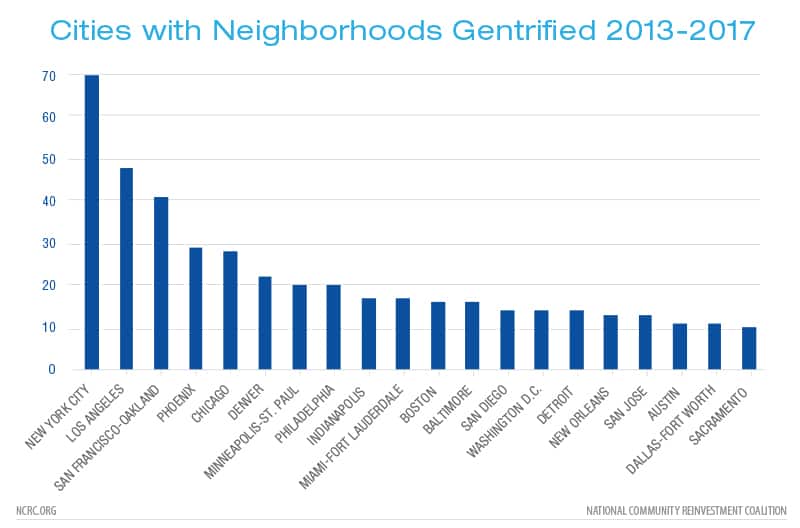 According to reports from the National Community Reinvestment Coalition, gentrification in areas populated by people of color have concluded that homeownership was significantly lower and people of color were not benefitting from the investment that flowed there. There has been an overwhelming amount of gentrification in cities across the United States and gentrification can show improvements in socioeconomic status of residents, but they are also places where rent costs more. This indicated general reduction in affordability. Gentrification is making it difficult for residents to stay in their communities. Raising rent can and will push people out that cannot afford to live there.
Rather than raise rent prices and displace flourishing business that are already there, entrepreneurs should work with these communities to improve neighborhoods rather than diminish them.
What Should Be Done?
Ultimately, entrepreneurship should be celebrated! Entrepreneurship is innovative and creates more opportunities, but it is okay to have some fears. When entrepreneurs do not consider the lives and well-being of the people in historically disinvested or culturally based communities, they could be the cause of individuals losing their entire livelihoods. Entrepreneurs need to be sensitive to the issues of gentrification.
Is entrepreneurship solely a good thing or can it have some repercussions? Let us know in the comments!
This article originally published on GREY Journal.