Listen to this article now
Every once in a while we come across things that open us to the world. We define things and put them into structures so that it is easy for us as human beings to make sense out of them. However, every so often one set of efforts can open that definition to new possibilities much further. I am a 20-year-old and my understanding of advertising today as opposed to when I was five is different because I exposed myself to unraveling this definition. Advertising, in an idealist world, would be an absolute waste of resources because it technically persuades people to buy the product. However, in the world, as we know it—it is an unapologetic piece of art.
As I go through life, I am awestruck by the creativity I come across. Do I need a pair of eyes that see the world in print ads and videos? Do I need to be a people person to understand exactly what people would relate to? One usually observes things that are not familiar and that is where creativity strikes. I have come across too many advertising campaigns to believe that this subtle art of selling something eventually is a garden of possibilities. The seeds you sow here will decide what the final fruit looks like.
I have picked five campaigns that I felt are the most iconic in terms of their creativity and impact. There are so many others – Just Do It, Old Spice, French Health Ministry, the McDonald's and Burker King stories, and many more. However, the impact created by the campaigns listed here seems greater to me. If you have any more campaigns that changed how you looked at a specific brand, then comment below.
Budweiser's "Wassup" Campaign
Some ad campaigns are more than just fun, quirky ads; they are a resemblance of a piece of life. Every circle has an idiosyncratic way of greeting every time they meet. Budweiser's Wassup campaign is so youthful and refreshing even today. It is always fun to see how people talk to their friends, but an ad campaign has never been so simple yet so relatable. Just a bunch of friends saying "Wassup" to each other in their most human states.
The campaign was launched in December 1999 by Anheuser-Busch Companies that owned Budweiser then. The campaign was so successful that it was aired again at the time of the 2000 Super Bowl. Anheuser-Busch Companies was America's largest brewing company at the time of the campaign and owned two of the biggest beer brands under their wing. The campaign helped increase the sales for Budweiser and other beers too.
Now the most powerful thing about this ad was how it seeped into the pop culture of that time and still stays relevant. It was also used in a presidential political campaign eight years after its launch. Recently, Budweiser also re-recorded the audio for the 1999 iconic ad during the pandemic. They took this opportunity to promote how important it is to stay connected with our loved ones. The ad is also referenced in many American sitcoms like How I met your Mother, The Office, The Simpsons, and even the iconic Friends.
#LikeAGirl Campaign
The LikeAGirl Campaign has been an eye-opening, groundbreaking, and purely iconic commercial. The first time I saw it I was 14 and now I am much older, but I think it changed a lot of things for me, and for so many women around the world. It is what I call one of my favorite marketing moments from the last decade.
The ad shows a series of individuals consisting of girls, boys, men, and women to respond to certain questions. They ask the respondents to do things like a girl. It is observed that everyone other than young girls takes the instruction "like a girl" as a moment to be lousy, meek and unconfident. The young girls, however, are nothing others have posed them to be. My favorite part from the ad is when the interviewer asks a little girl, "What does it mean to run like a girl?" and the girl responds, "It means to run as fast as I could."
Most often than not, we come across certain things that scream to us that there may be other ways of thinking. This ad was one of those things. There is constant stereotyping and the burden of looking/being a certain way is not really getting any less for us girls, it is refreshing to see how wonderfully Always advertised a cause. Puberty isn't a problem, but it is an exhausting couple of years to deal with; if we set the tone right for our girls, maybe "like a girl" won't sound like an insult anymore. Remember, "Like a Girl" means winning the race!
KFC's FCK campaign
A power move by KFC made it to the international news in February 2018 as the fast-food chain dealt with a shortage of chicken in the UK and Ireland. Chicken – the ingredient that is the spine of the KFC brand, saw shortage after KFC changed their logistics partner and terms of supply. This change led to a crisis due to inefficient management and further, left the customers disappointed.
Post this, not only did KFC apologize through a rather self-deprecating PR campaign, but they also launched a print ad with FCK on their bucket signature instead of KFC. The print ad that was meant to repair the damage of 900 restaurants being closed across the UK and Ireland, did more than just that. It turned #KFCCrisis into #FCK with more than 53,000 mentions across social media. It introduced a brand new way of apologizing to the customers that we value the most.
De Beers: A Diamond is Forever (1999)
If you are going to propose to the love of your life, you buy a diamond ring. Not sapphire, not an emerald. Platinum bands are still a new concept. But why diamonds? Maybe it's because you're thinking diamonds are forever. But are they, really?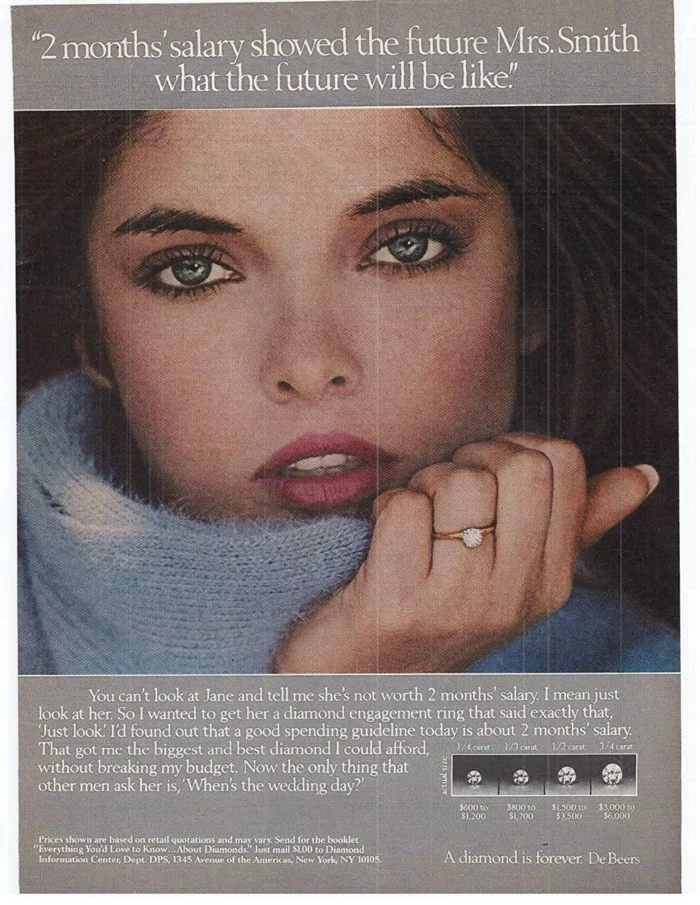 In 1999, De Beers launched their print ad and the memorable slogan- "diamonds are forever" (conceived in 1948) and it hasn't left our minds since. The print ad is a brilliant example of manufactured demand and persuasion. Mrs. Smith in the print ad is a brilliant embodiment of femininity at the time—her blue eyes, slightly parted lips, and assertive look along with the diamond ring is nothing less than that of a heroine. The slogan "A Diamond is Forever" was awarded the slogan of the year (as it should) and even today we witness so many ads being built on a similar premise.
It has also been successful because of the strategic (read sexist) targeting of consumer groups. Most of the print ads for the campaign target men instead of women—giving them a rather optimistic narrative of women establishing greater trust in men by the means of a diamond ring. Men, as a consequence of the patriarchal setups, have deeper pockets and as a consequence of the social cues, are the ones to propose. De Beers' campaign, in totality, is forward-looking and intelligent.
Dove's Real Beauty Campaign
I saved the best for the last. Dove's Real Beauty Campaign, brought to you by Unilever and Ogilvy & Mather, was launched in 2004. Instagram preaches body positivity now, but Dove started this campaign and it revolutionalized the way we think in 2004. You've got to give it to them for this. Dove as a brand has always been ahead of its times and with this campaign came the concept of "real" women. The campaign was actually launched after the premiere of the show called Beyond Compare. This show aimed to showcase the work of 67 women photographers on the concept of real beauty.
The campaign is to date deemed one of the top campaigns of the century. The ads showed positivity, inclusivity through happy women who were comfortable in their bodies. Most beauty brands feed on the insecurities of young women to sell their products. Dove changed the game with this campaign. This was something that needed to be said at the time and Dove screamed it right back at us. It did use emotive advertising to bump up the revenues substantially, but this campaign is valuable because it started a positive dialogue.
Special Mentions
It's Sugar-Free: Chupa Chups
Chupa Chups is a famous lollipop brand. It is very unusual for people to believe that candy may not have sugar so DDB Madrid came up with the most innovative way to make Chupa Chups' customers believe them. It is simple and conveys the message in one go.
To conclude, advertising has been given so many names, meanings, and forms. We might find ourselves a little confused—some say it's unethical, some say legalized lying, arresting people's attention, the art of persuasion, propaganda for exploitation, and so much more. To understand advertising one must perceive it to be sales at worst and creativity at best. These campaigns can tell you how to create a change whether it is the simplicity and brilliance of Budweiser and Chupa Chups, the apology and crisis management by KFC, the revolution by Dove and Always, or manufacturing demand like De Beers—making an impact always counts.
What do you think is the best marketing campaign? Let us know down in the comments.
This article originally published on GREY Journal.