The COVID-19 pandemic brought forth many trials and tribulations for everyone around the world, independent musicians included. According to a survey led by Americans for the Arts, it has left 62 percent of artists fully unemployed. As well as more than 94 percent experiencing loss of income.
Thankfully, living in the digital age there are ways around this. Independent musicians today have more opportunities than ever before. Whether it's publishing their songs on streaming platforms or generating an online presence, all of this can happen without independent musicians having to be out on tour. Until the pandemic is over, that is.
Streaming Services: By the Numbers
Many live shows and tours (main income source) were canceled or postponed until the pandemic is under control. This left independent musicians scrambling to find other means of generating income for themselves to continue pushing forward. Unfortunately, not every artist is like Travis Scott. Scott was given the opportunity to make a $20 million deal with Epic Games (developers of Fortnite) by putting on a virtual concert generating 12.3 million viewers during a pandemic. So where does that leave independent musicians?
The first go-to for any independent musician is putting your music up on streaming services. While this move is highly encouraged, let's take a look at independent musicians who utilize streaming platforms. Spotify only pays an average of one-third to a one-half penny per stream, where compared to Apple Music that only pays a penny. Basically, you would need one song streamed over 1,000 times to see $3-5 from Spotify or $12-15 from Apple.
You would need to average 100,000 streams to even accumulate $380. For an average musician, those streaming numbers are astronomical. So, unless you're generating numbers like Moneybagg Yo, Drake, or Taylor Swift, don't expect to make much money off streaming.
A solution to generating more revenue from your music via streaming is selling your music and product via Bandcamp. It is a more profitable and affordable way to sell your music where you'll make some money by doing it. Bandcamp is the OG music distribution site for independent musicians. They only take 10 to 15% of an artist's revenue on a particular product (digital music, vinyl, t-shirt, cassette, etc.). So, that's 80-85% revenue in your pocket! Bandcamp is one of many digital solutions to making a buck or two as a musician in 2021.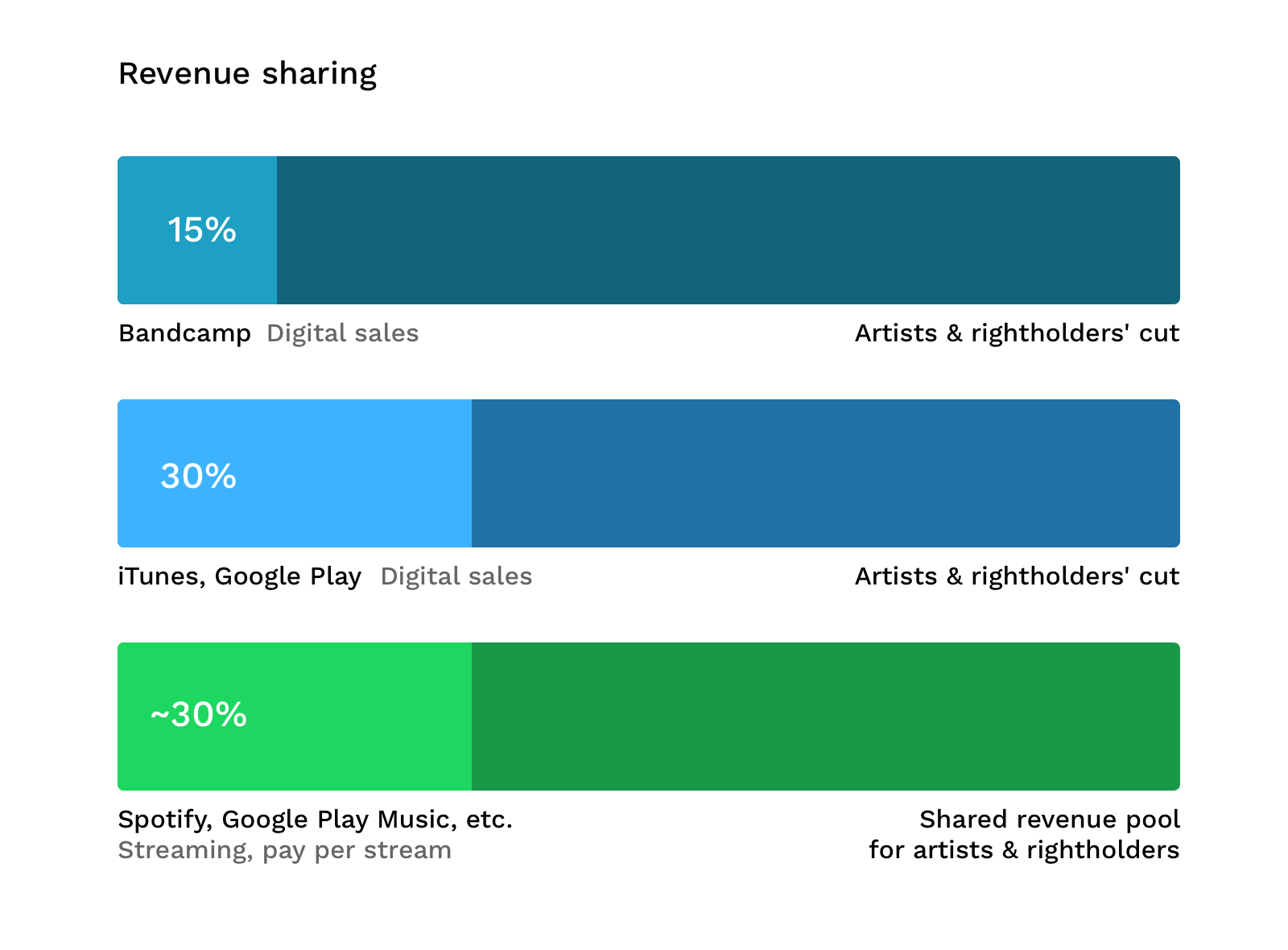 Building an Online Presence
With 60% of the world now on the internet, strengthening your online presence as an independent musician is pivotal. Especially during times of a pandemic when everything is closed down. Below are some important basic tips on how to begin building a presence into the digital realm:
Understand what it is you're trying to do. Sit down with your team, grab a pen and paper (or laptop), and write down what it is you represent. Be unique! This makes the next few steps easier to execute because now you're laying down the foundation. Every stable building needs a strong foundation.
Build a website that is simple and easy to navigate. Do some research on which website builder is right for you (WordPress is my go-to). Many people underestimate the power of a website and what it does for your digital footprint and overall image. It establishes credibility to your craft where you can also sell your merchandise and music on without a middleman. You keep all your profits and have full creative control!
Create a social media strategy. This part is a tricky one because it can be difficult to continuously pump out content, but don't fret! The key is to post relevant content, not random content every day. Endlessly posting can hurt your image just as much as help it. Sit down and plan a month's worth of relevant content. Whether it be new song snippets accompanied by a video, a blog post, or a video section of your website.
Develop unique merchandise to sell. A smart avenue of generating some extra revenue is merch. Yes, always focus on creating music, but fans love owning merchandise of their favorite artists. Create t-shirts, posters, and/or physical copies of your music. Get creative and think of unique products your fans would like from you! Don't rely solely on cashing out from streaming services.
A Final Note for Independent Musicians
Independent musicians take a gamble every time they create something. They never rely solely on record sales (now streaming platforms) to make their money like many tend to believe. Jay-Z didn't just stick to rap. Kanye West owns his own fashion line. Even Travis Scott ventured out of music. These aren't independent musicians but once started just like us—with a dollar and a dream. They have all made ventures outside of their craft to make more money. There is more than meets the eye when it comes to independent musicians whether it be pre-or post-COVID.
Take it from me, someone who has invested many hours and dollars into making dreams a reality—it's hard work. Often the reward is little to none, but you keep pushing because it's what you love. Many would argue that being an artist isn't for financial gain. That it is more for the emotional connection that stems from the music. While that is true, we live in times where there are numerous avenues to gain profit for our hard work. The artist will always emerge victorious in times of desperation and the pandemic has proved this to be true. Support your local artists and keep dreaming!
Who are some of your favorite independent music artists? Let us know down in the comments.
This article originally published on GREY Journal.